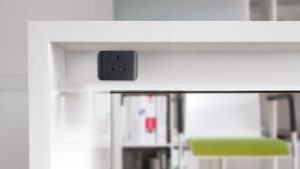 Tiny Yet Versatile: NETBOX M1
NETBOX M1 is a standard unit for power, data, or multimedia solutions. It has a plastic casing with a detachable frame. 100% locally designed and manufactured, the NETBOX M1 comes with a host of advantages. 
One of its prime benefits is its ability to be flush mounted on slim metal surfaces with a  thickness of up to 2mm, which makes it highly suitable for phone booths and lounge furniture. It is possible to do surface mounting on a metal tray that can be used for workstations, conference tables or home offices. 
On top of that, any of our 250 modules can be integrated into this box. The frame of the NETBOX M1 has a fresh and new aesthetically pleasing design and a modern appearance. The unit comes as a standard with a 200mm cable fitted with a male GST 18/3 connector but can be terminated with any cable upon request. As an option, several NETBOXes can be interconnected using their male connector cables. 
Feel free to ring us or drop us an email if you need further assistance.